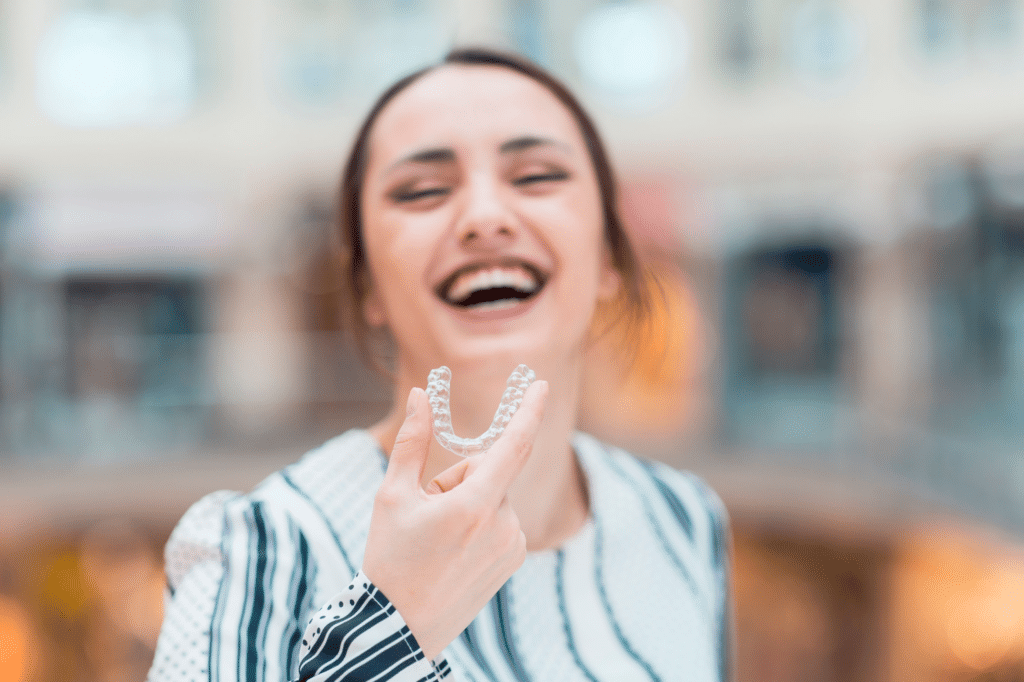 We offer clear aligners at Berry & Berry Dental Associates in Granbury, TX. We believe it is one of the best, most effective, discrete ways to straighten your teeth.
Contact us today to set an appointment for an evaluation and a consultation with Dr. Berry. We look forward to treating you and helping you enhance your smile with beauty and confidence. 
What are clear aligners?
The clear aligner system provides a fast, painless way to straighten your teeth. Many adults prefer the clear aligners worn over the teeth because they're a thin, clear material, making them comfortable and difficult for others to detect when you speak and smile. 
How Much Do Clear Aligners Cost?
At Berry & Berry Dental Associates, we'll have a conversation with you about your specific needs and your treatment goals. Clear aligners are around the cost of traditional orthodontics.  We'll work with you and your insurance carrier to ensure our affordable rates fit into your budget.
We want to provide you with quality dental care not just by improving your smile and your health but by ensuring you'll have a positive experience with us in every way. 
Clear Aligners  Means Comfort and Convenience
The clear aligner system utilizes next-generation technology. Clear aligners can provide highly-customizable results using our 3D scanner technology. 
After taking a 3D scan of your teeth, we'll provide your custom-made aligner sets. Each set guides your teeth, moving them gradually. You'll need to keep them on for 22 out of every 24 hours, but you won't mind because you'll probably hardly even notice they're there. They're also easy to clean, and you can easily remove them for eating, drinking, and brushing your teeth. About every two weeks, you'll move on to the next aligner set until your teeth are straight. It only takes about 10-24 months.
Are Clear Aligners Painful?
Clear aligners are not painful. You may feel pressure during certain treatment moments, but it should not be too uncomfortable. When you put in a new aligner set, you may feel pressure in certain spots on and around your teeth, especially at the tooth movement target areas. Any pressure should go away quickly as you and your teeth get used to the new aligner set and your teeth gently move into their intended position over time, usually around 2-3 days at most. This pressure only occurs in some cases, although it is entirely normal to feel any pressure during your treatment. 
Will Clear Aligners Affect My Speech?
Clear aligners are smooth and thin, designed to fit with a sleek hold to your teeth to allow your mouth to adapt to them. Any time you put something in your mouth, it will affect your speech. For example, you might notice a slight lisp after putting in your new aligners. However, as you and your mouth get used to wearing them, this lisp will go away. 
How Do You Clean Clear Aligners?
Cleaning aligners is easy. Remove your aligners and brush them using a regular toothbrush and soapy water. If you'd prefer, there are cleaning tablets available. You can place a tablet in a cup of water along with your aligners for cleaning. 
Are Clear Aligners as Effective as Regular Braces?
Clear aligners  are certainly as effective but case selection is very important. Every patient has different needs and requires a tailored strategy, but clear aligners are frequently an excellent alternative to traditional braces.
We specialize in dental options and products that provide our patients with value in dental comfort, beauty, and health. We're ready to assist if you're ready to improve your smile and the performance of your teeth. Clear aligners are a terrific, discreet, safe, and effective solution. You won't be shy about showing off your smile with invisible braces!